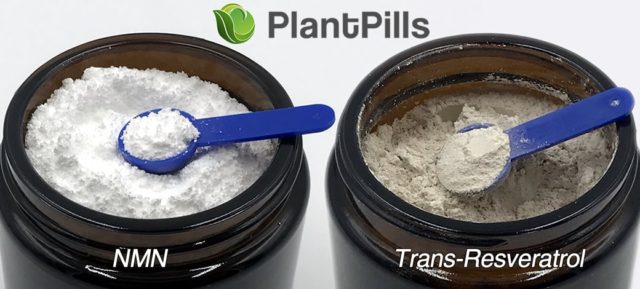 NMN and resveratrol are both found naturally in plants in tiny amounts, and are at the cutting edge of longevity and anti-aging research, with remarkable results observed in preclinical studies.
The two molecules go hand-in-hand, with resveratrol indirectly activating the "anti-aging" sirtuin enzyme SIRT1, and NMN boosting NAD, required for sirtuins to function.
Nicotinamide Mononucleotide (NMN)

NMN has only been produced as a nutritional supplement since 2015, and much of the published research and studies on NMN so far have been on mice. Some of the results observed include rejuvenation, the reduction of several markers of age-related degeneration, increased endurance, extended lifespan, improvements in skeletal muscle, liver function, bone density, eye function, insulin sensitivity, DNA repair, immune function, body weight and physical activity levels.
Micronized Trans-Resveratrol

Resveratrol has been present in medicinal preparations for over 2000 years. There have been at least 30 published clinical trials on humans reporting the effects of resveratrol on human health. It is becoming evident that resveratrol exerts cardio-protective benefits through the improvement of inflammatory markers, atherogenic profile, glucose metabolism and endothelial function. These effects have been observed using both high and low doses of resveratrol and both in healthy volunteers and medicated patients.
Resveratrol has been shown to rejuvenate human cells, restoring splicing factor expression and increasing telomere length. Studies on mice, rats and rabbits have found resveratrol to enhance exercise performance, whether training or not, increase blood testosterone concentration and improve sperm quality (in male rabbits).
Resveratrol seems to act as a neuroprotective agent, has an antiallergenic effect, has beneficial effects on bone regeneration, and appears to protect against muscle and bone alterations after disuse.
Potential Implications and Applications
If human trials are able to replicate some of the results seen in studies on mice, the potential implications are significant and wide-ranging. It is theorised that some of the potential applications of NMN and resveratrol could be in reversing or slowing down aging, treating illness, aiding in recovery from injury or illness, boosting physical performance, delaying degenerative diseases or extending lifespan.
Please see answers to some of the most commonly asked questions below:
Are your NMN and resveratrol powders the real deal?

Both our NMN and resveratrol powders are pharmaceutical grade, and the current batches have been independently verified to have a purity of 99.6% and 100% respectively, on par with or better than others commercially available.
Independent lab tests have also verified that both powders contain very low or undetectable levels of heavy metals, with some 10 or 100 times less than others available, as well as equally impressive microbiological results.
The third party laboratory certifications can be viewed on the NMN and resveratrol pages.
Why are they so expensive?

We are dedicated to supplying pure, clean and safe material at the best possible price.
The processes involved in producing NMN and refining trans-resveratrol are complicated and expensive, especially when made to such high quality and purity standards.
The price of NMN is much lower than it used to be, thanks to more efficient production methods, and we expect the price to gradually reduce in the long term.
After using NMN and resveratrol for some time, it is advisable to purchase in the highest quantity that your budget allows, in order to reduce the cost per gram as much as possible. We offer sizes from 5g up to 2kg, selectable in the shopping basket.
How much NMN and resveratrol should I take?

The upper daily dosage for NMN is 1 gram, and the upper daily dosage for trans-resveratrol is 0.5 gram.
Our 0.5ml scoops hold approximately 0.125g of NMN, or 0.25g of trans-resveratrol.
Our 1ml scoops hold approximately 0.25g of NMN, or 0.5g of trans-resveratrol.
If taking the upper daily dosage for both, it would equate to four 1ml scoops of NMN (4x 0.25g = 1g), and one 1ml scoop of trans-resveratrol (1x 0.5g).
How should I take NMN and resveratrol?
We recommend taking NMN by placing it under the tongue, and allowing it to dissolve for a minute or two, before swallowing. We also recommend spacing the dosage throughout the day, so if taking the upper daily dosage for NMN, it would be one 1ml scoop (approx. 0.25g), four times a day.
We recommend taking trans-resveratrol by placing it under the tongue and swirling around in the mouth for a minute or two before swallowing. The dosage for trans-resveratrol doesn't need to be split, so if taking the upper dosage, it would be one 1ml scoop (approx. 0.5g), once a day.
What does NMN and resveratrol taste like?
NMN has a sharp taste, and rapidly dissolves in the mouth. Trans-resveratrol has a plain, chalky taste, and doesn't fully dissolve in the mouth.
How long until I see results, and what benefits will I notice?
Users of NMN and resveratrol have reported a variety of benefits. It must be noted that these are subjective, anecdotal reports. NMN boosts the production of NAD, which declines as we age, so any benefits may be most dramatic in older people.
It's also worth noting that in trials on mice, dramatic results were noticed in periods as short as a week. However, a week of NMN supplementation to a mouse could be equivalent to 25-45 weeks in a human.
The reported benefits can be split into results that are noticed quickly, and results that are noticed over the long term.
Reported benefits of supplementing with NMN and resveratrol that were noticed quite quickly (within a couple of weeks), include increased energy, requiring less sleep, and increased strength and endurance.
Benefits noticed over the long term (6-12 months) include feeling younger, physically looking "well" or "healthy", healing and recovering faster, muscle growth/restoration, increased mobility, increased mental clarity, and reduction or resolution of minor aches and pains.
How is it packaged? Do I need containers?

All our NMN and trans-resveratrol comes packaged in sealed foil pouches, with a 0.5ml scoop included.
We have reusable glass jars that hold 20 grams of NMN or 40 grams of trans-resveratrol available for purchase in the shopping basket. These can provide a more convenient form of administering the daily servings while keeping the main packet stored away.
Larger 1ml scoops are also available for purchase in the basket.
Do you deliver to my country?
Yes! Although we are in the UK, we deliver worldwide. The shipping costs are automatically calculated in the shopping basket.
Please see the NMN and resveratrol pages for further details and sources.
Published on: Apr 03, 2019