A scientific approach to nutritional supplementation - high quality nutritional supplements, independently verified by third party laboratories, supported by the latest scientific research.
It's often difficult to determine whether a nutritional supplement is genuine, how pure it is, which grade it is, whether its tainted with dangerous amounts of heavy metals or bacteria, and if it's even intended for human consumption. Most retailers rarely publish any kind of independent lab tests. In the absence of such tests, quality and safety is simply unknown, posing significant risks for end users.
When considering any PlantPills product, you're able to view our independent lab tests, so you know the product is genuine, high quality, and comprehensively tested, verified and certified by independent third-party laboratories.
We also provide references to the available scientific research, enabling clients to make informed decisions based on science, rather than muddying the waters with outlandish theoretical claims.
We have an unwavering passion for high quality, safe, scientifically supported nutritional supplements.
Based in the United Kingdom, and founded in 2013, PlantPills has quickly become established as a premium-quality market-leading nutritional supplement brand, exporting to clients, shops and distributors around the world. We specialise in nutrition-rich, vegetarian, gluten-free, plant-based nutritional supplements, nutraceuticals, and cutting edge longevity and nootropic products. Our diverse range of clients include medical and nutritional professionals, high profile celebrities, and professional sports teams.
Thanks to close working relationships with growers, manufacturers and laboratories, some of whom now exclusively deal with us, we're able to drive innovation and development of our world-class product range. We're also UK distributors for two of the largest, oldest and highest quality algae growers in the world.
Like any food, powdered and tableted produce is sensitive to oxygen. Significant nutrition is lost if produce is not stored in an oxygen free environment both before arriving with the consumer, and critically in-between uses after it has arrived.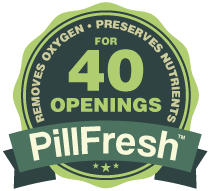 In 2014, faced with the issue of oxygen degrading the nutritional content of some produce after the packet is opened, we developed our proprietary PillFresh™ packaging. This packaging continually removes oxygen from our product for 40 openings, preserving the nutritional content.
Our innovative, industry-leading PillFresh™ range of packaging continues to solve this issue.
If you're interested in learning more about PlantPills and our services, please visit our corporate site, PlantPills.com
We have several innovative products in the pipeline at various stages of development to complement our existing range. Please subscribe to our email newsletter to be kept up to date with developments.